Season Three: The Typographer's Dream
Quark's production of Adam Bock's The Typographer's Dream ran September 7-23, 2018 at Voices of the South. The show was perhaps Quark's most well-received to date, and received great reviews including this one from Chris Davis of the Memphis Flyer.
Jillian Barron…………Annalise
Eric Vinton Jones….Dave
Michelle Mikosey…..Margaret
Director: Tony Isbell
Stage Manager: Phoebe Neal Moore
Lighting Design: Louisa Koeppel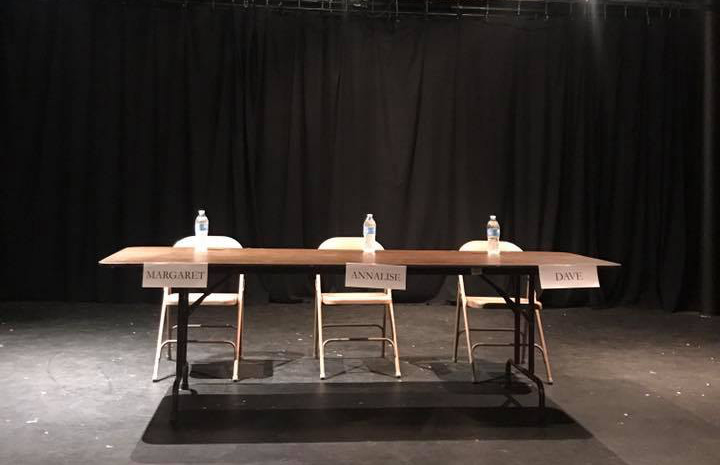 ---
Selected Reviews
The Typographer's Dream is Dreamy Comedy at TheatreSouth
by Chris Davis, Memphis Flyer
First off, Quark Theatre's production of The Typographer's Dream, is a fine, fine thing with more honest laughs, and little epiphanies than most plays twice its length. I'm probably not going to write very much about It though. Not because it's not worthy, but because it's a tiny thing, featuring only three actors, no set to speak of, and clocking in at around 75-minutes. More than usual, describing any of the component parts in any detail will spoil the fun.
Instead of narrative, playwright Adam Bock uses the convention of a panel discussion to just let a typographer, a geographer, and a stenographer talk directly to the audience about their seemingly unrelated jobs. The result is a curious, quirky show about the differences between what we do and who we are. Playing out like the most delightful documentary Fast, Cheap, and Out of Control filmmaker Errol Morris never made, The Typographer's Dream is a subtle, jokey inquiry into the malleable, too-easily-shaded nature of translation and described realities. Best part: For being pretty heady stuff, Bock is never afraid to be a little poignant, and first and foremost, The Typographer's Dream was built to entertain. But when the laughter fades, it may leave audiences contemplating the meaning, poetics, and ethics of their own occupations.
Jillian Barron is joyfully weird as the geographer. She's one of those eternally chipper people and seems to love her job — and maps — just a little too much. Eric Vinton Jones plays the proud, disciplined stenographer like a man who's always wondered what it might be like for somebody to care about what he had to say for a change. It's a quiet, uncommonly honest performance, and very funny.
Of the bunch, Michelle Miklosey's typographer has the most trouble getting started. Her character's feelings are complicated and thinking about them doesn't always bring clarity. She's not sure how to describe her her job. She's not a graphic artist or a word decorator. She's engaged with so much more than a visual representation of language. She worries about truth and honesty and how meaning can be distorted if we give it a misleading physical form. The whole of this warm, probing (but not so deep) comedy turns on this idea. It's frustrating. It's lovely.
Speaking of misleading, it's not entirely true that there's no narrative here. A story tying the three panelists together does emerge from their fragmented work histories. It becomes full enough to trigger stylistically incongruous flashbacks that shouldn't work but somehow do.
Director Tony Isbell's kept things simple, which is never as simple as it sounds. It's another winner for Quark Theatre, and bite-sized performance in Memphis.
The Typographer's Dream closes this weekend, so catch it while you can. It would be so nice if a show of this scale — a show that could move into another theater, shopfront, lobby, or living room tomorrow — could be kept going. If it could be booked privately, like a band or deployed like a calling card to raise awareness, and $ for the company. But that never happens. Assume it will be gone after this weekend. Though it seems like such a disposable trifle, this is a show you want to see — a show you'll want to keep with you.
From Fredric Koeppel:
I'm biased about Quark Theatre, of course, because two of its founders are near and dear to me: my daughter, Louisa Koeppel, and son-in-law, Adam Remsen. The third person involved is local theater veteran Tony Isbell. Their latest production, "The Typographer's Dream," a 75-minute play by Adam Bock, runs for two more performances, tonight and tomorrow. It's a comedy, for sure (deftly directed by Isbell), and is very funny, but the humor develops from the characters and their personalities, not from snappy one-liners; it's also poignant, touching and deeply thoughtful. A typographer, a geographer and a stenographer gather for a panel discussion about their work. That concept defines the set; a fold-out table and three metal chairs. That discussion leads to an exploration of how work defines us and how we define work, how we exist within notions of the importance of labor and intellectual endeavor. Gradually, the lines of relationship are drawn among the three characters, with Jillian Barron's raucous, enthusiastic geographer dominating. It's interesting that each line of work for these characters is abstract: the typographer doesn't care about words or meaning but about the former aspects of printed letters; the geographer isn't concerned about populations or people but about boundary lines (though for her there are no personal boundaries); the stenographer isn't interested in meaning but about accuracy. From these professions that shut other people out, the three build tentative connections. The acting is terrific, the characters clearly and hilariously and tenderly defined. It all adds up to great theater.
From Jon Sparks:
Quark Theatre has been presenting provocative plays for about three years now and every one I've seen, which is most of them, has hit a nerve. Most have been on the dark side until its current production "The Typographer's Dream," with final performances tonight and tomorrow afternoon.
Like the other Quark plays, there is superb acting and a storyline that goes in unpredictable directions. Like most of the others, it's intimate, this one being staged at TheatreSouth at First Congo. Unlike the previous shows, this one is funny although not what I'd call a comedy. Officially, it's a comedy-drama and described this way: "A typographer, geographer, and stenographer strive to explain their work in this examination of art and business, boundaries and learning to tell your own story. Most importantly, if you are what you do — what happens when you hate your job? A funny, honest look at how we define ourselves." So, yeah, it's that, but of course, it's far more fascinating and insightful than that synopsis, thanks to the writing of playwright Adam Bock and the spot-on direction of Anthony F. Isbell, one of Quark's founders.
I've observed the three actors in other productions and can attest to their abilities and range. Their characters are vivid and nuanced. When one of them speaks, it's rewarding to turn your attention to the others and see what they're doing. I've had chamber music on my mind lately and I couldn't help but think of Jillian Barron, Eric Vinton Jones, and Michelle Miklosey as virtuosos in a string trio bringing their very different instruments together with exacting harmony, dissonance, and feeling.
Attendance was decent at Friday night's performance, but Quark's shows should sell out every time because of thoughtful programming, devoted artistry, and flat-out terrific theater. You can still see it this weekend, so go.